Prue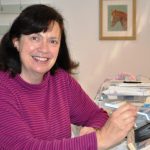 Following a Foundation Art Course in the late 70s at the Cambridge Art School (now known as Anglia Ruskin University) I went on to complete a Graphic Design and Illustration course, as I had wanted to be a fashion designer since the age of thirteen. Instead, I went into Graphic Design and found myself working in a design studio in an advertising company in Cambridge for several years before leaving to start a family in 1985.
I was still doing freelance work at home but also had a part time job as a teaching assistant in the local Primary school, which eventually lead to teaching children Arts and crafts, something I still enjoy to this day! In addition, I also teach adults arts and crafts at Comberton Village College in Community education.
In 1990 I started to develop my watercolour and silk painting skills, and when the WEA asked me to run some art courses in Cambridgeshire I incorporated my knowledge into the lessons and also decided to take a teaching qualification. When I was at Art school I was already exhibiting paintings with other students around Cambridge, and my first big solo exhibition was at the Arts Theatre in Cambridge followed by one at the Central Library. This seems a long time ago and I have only started exhibiting and selling my work again in the last ten years. I have also illustrated a children s book, some endpapers for a book on North Norfolk and a book about the Haslingfield landscape.
Teaching art and craft has led me to explore different media and I have learnt glass-painting, decoupage and silk painting which has since led to me tutoring workshops for the National Trust at Wimpole. In addition to all this I enjoyed selling my work through art & craft fairs and giving demonstrations and talks for the WI and Ladies NFU.
Prue