ADC Theatre – Deathtrap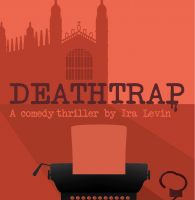 We are again going to the ADC theatre and tonight we are seeing "Deathtrap" by Ira Levin.
Sidney Bruhl, an academic and struggling playwright, has writer's block. That is until he reads Deathtrap, a tour-de-force murder mystery laden with plot twists, psychological horror and emotional intensity. It's just a shame that an unproven upstart wrote the masterpiece – but what if there was a way Sidney could make it his own? Time to invite the playwright round for tea…
Deathtrap, arguably Ira Levin's greatest play, still holds the record for the longest-running comedy-thriller on Broadway, consistently staggering audiences for decades. Now, brought to life at the ADC Theatre, Deathtrap promises an all-too-real comedy-thriller that hits like no other. A great play and very much enjoyed.