Church Fenton (AKA Leeds East)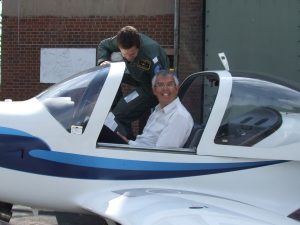 It is wonderful weather today so have invited Mike Bass to accompany me when we fly to Church Fenton aerodrome. It was the place where James gained his PPL and where I had my first taste of flying in 2010! It was then a RAF base and was closed in 2013 and subsequently opened as Leeds East airport.
The flight was fairly uneventful and let Mike fly most of the way ensuring we remained clear of CAS. I landed at 11:15 and both had a massive breakfast. After having looked around (it was fairly deserted) and refuelled we left again a little after 1pm. I flew most of the way back and got back to Fowlmere at 15:00.