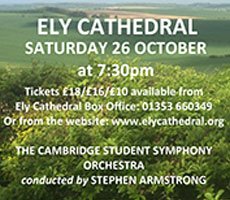 This evening we are seeing a concert by the Cambridge Student Symphony Orchestra and Ely Cathedral where they will be performing several works by Edward Elgar.
They are performing:
SYMPHONY NO. 1
THE WAND OF YOUTH
SUITE No. 1
POMP and CIRCUMSTANCE MARCHES 3 and 5
CORONATION MARCH.
A great performance by the  Symphony orchestra of the works of one of Britain's best loved composers in one of Britain's best cathedrals. We enjoyed this very much and went for drinks afterwards.