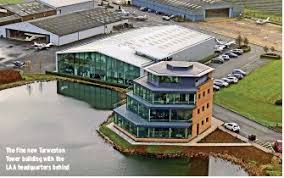 Weather is forecast for sunshine and (few) showers so have decided to fly to Turweston for lunch. While I have been there before it is new for Prue so off we go to Fowlmere. After a fairly quick flight we get to Turweston and we have to land in fairly heavy rain (after a go-around as we are getting too close to the PA28 in front of us). We have a quick dash to the control tower where we pay our landing fees and have a very nice lunch and see the aircraft land and take-off.
Rather surprised we were accosted by a person from another table who used to live opposite us in Haslingfield and recognised us. A small world.
We left just after 3pm and it was a case of "dodge the showers" on the way back. Landed at 4pm and we decided to have dinner at Pizza Express in Cambridge. Why not, it's bank holiday weekend after all.